We Lease New Sites
Our site acquisition and leasing experts evaluate viable candidates, negotiate favorable business terms, and get leases signed.
Before signing any lease, our team performs a complete zoning analysis to ensure that all land use approvals can be obtained.
We have the tools, technology, and expertise to discover opportunities quickly in order to keep up with rapidly evolving markets and consumer demand.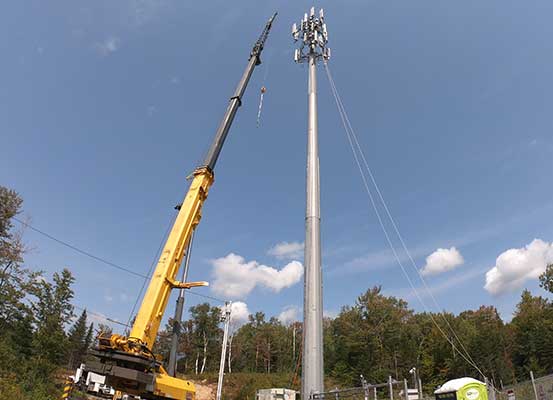 We Build Towers
We work with carriers, landowners and municipalities to build towers in locations needed to close coverage gaps and address capacity concerns.
Our team has built thousands of sites and has the expertise to navigate any jurisdiction in the United States and Puerto Rico.
For information on our complete build-to-suit program please contact Jim Rech at info@blueskytower.com.
Collocation
We represent over 1000 sites in the United States and Puerto Rico.
Our real estate and operations team can work with you to determine if we have a site that will satisfy your deployment objectives.
You will quickly determine that our real estate and operations team has created a collocation process that is the most streamlined in the industry allowing you to rapidly deploy your equipment hassle free.
Please email collos@blueskytower.com for a complete list of our sites.
We Manage Existing Sites
Our site management team can manage your existing wireless communications site. Our knowledge and expertise coupled with established relationships with all wireless providers ensure that any potential issues at your site will be avoided.
Utilizing our up-to-date industry knowledge of current and anticipated market trends we can maximize your revenue opportunities.
We Buy Sites
As one of the most active acquirers of wireless infrastructure, we offer creative deal structures, highest bid pricing and all transactions are fast and efficient. We acquire towers, rooftop sites, DAS, and lease revenue.
If you are looking to sell your tower or your lease, we will make you a fair offer based upon current industry valuations. We do our due diligence and close deals quickly and efficiently.